Let's face it.


Existing TV mounting bracketry just won't truly flush-mount your TV while clearing a 12-inch mantel to lower the screen.



Until now.
Out of Sight ™️ patent-pending two-piece bracket, with its recessed enclosure, will hold your large flat-screen TV flush against the wall ― so flat that it looks almost like a painting ― plus allow you to lower it out and over a mantel, cabinet or shelf to a pleasurable viewing height.
This unique television mount consists of a metal box and a separate bracket that bolts into it. The box is approximately 25 inches high x 18 inches wide x 3.5 inches deep, designed to be installed between ― and flush with ― the studs in your wall. Installation is relatively easy, and your Out of Sight ™️ bracket is completely concealed behind your 100% flush-mounted 50-inch (or larger) TV for a clean, aesthetically pleasing look.
You will be able to lower the bracket more than 30 inches for your viewing comfort, and your Out of Sight ™️ bracket will accommodate VESA patterns from 200 to 600. A unique dampening system enables the TV to smoothly retract to its stowed position, flush against the wall.
Included with your Out of Sight ™️ TV bracket are three different depth handles that allow you to choose the best fit for your custom installation. You can mount your TV as close as barely an inch above your mantel ― this feature will appeal to homeowners with too little wall space for traditional drop-down brackets.
Your Out of Sight ™️ bracket is easily installed inside a sheet rock wall ― even after finishing and painting. In addition, your Out of Sight ™️ bracket comes with a sleek trim plate if you choose to surface-mount the bracket.
NOTE: We will be building only 100 of these unique new Out of Sight ™️ brackets this year, with availability anticipated at the end of August.
Fill out the form below to reserve yours today!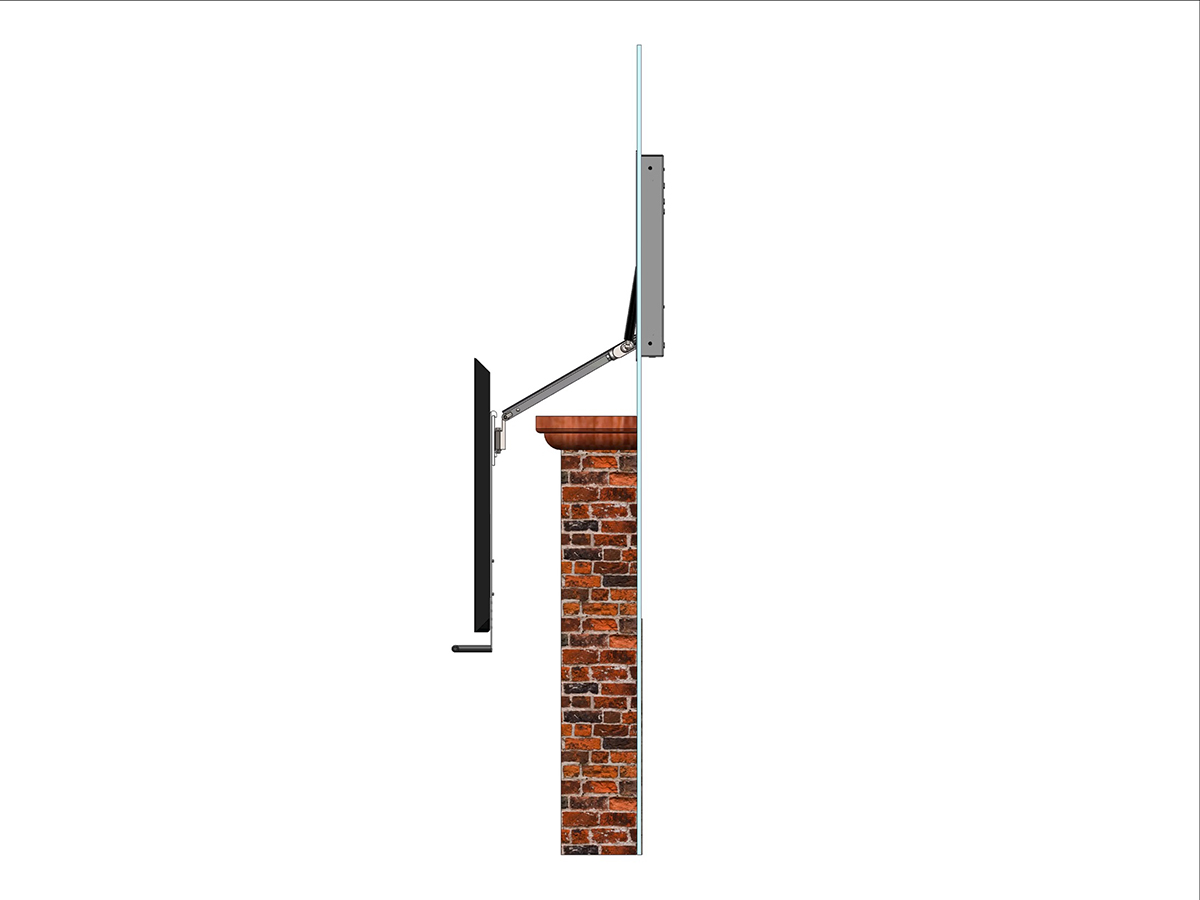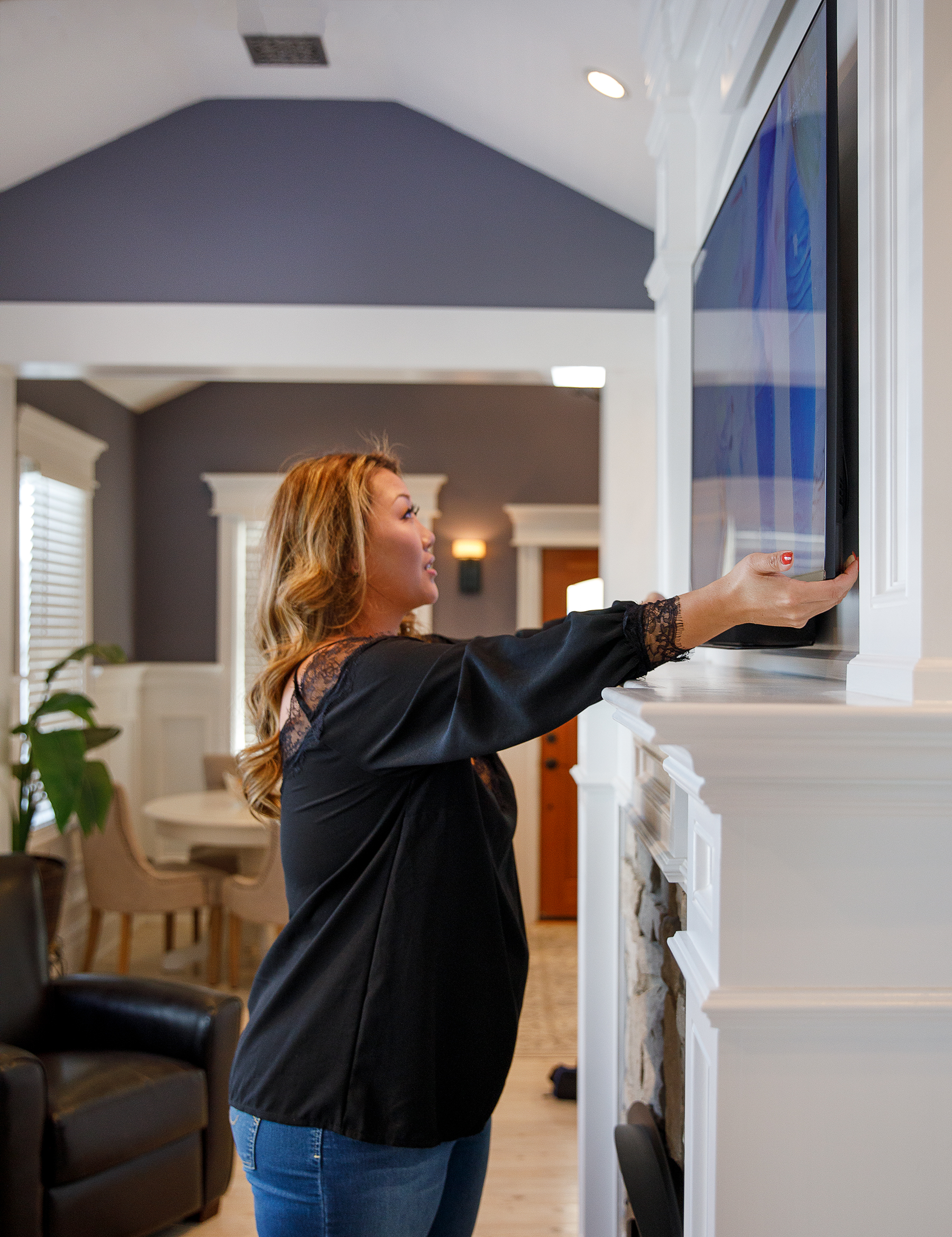 Perfect for Homeowners, Custom Builders, Interior Architects
The Out of Sight ™️ solution, with its fully recessed TV mounting bracket, is perfect for discerning homeowners searching for a way to mount a large flat-screen that's both compatible with their interior design and comfortable for viewing. Our Out of Sight ™️ TV mounting solution is also ideal for:
• Custom home builders
• Interior architects and interior designers
• Home theater builders
• Home video installers
• Home remodeling contractors
• Hotel builders and remodelers
• Custom fireplace builders
• Custom cabinet builders
• Custom modular home builders
• Electronics retailers
Out of Sight ™️ is the only solution on the market today that mounts a large flat-screen TV truly flush against your wall, chimney or bookcase and offers the ability to lower the TV to a comfortable viewing height. Wires and brackets are fully concealed ― nothing to detract from custom cabinetry or fireplace design.

A TV-Mounting Bracket to
Suit Your Custom Décor
A true case of necessity spawning invention, the unique, patent-pending Out of Sight ™️ pivot bracket and recessed enclosure were born of a homeowner's desire to flush-mount his TV just above the fireplace mantel, and to be able pull it down off the wall to a comfortable eye-level position when watching TV.
While building a custom bookcase surround with a high mantel for his fireplace, the homeowner extensively researched mounting solutions that would meet his needs ― but initially struck out. What followed was a four-year journey of patent applications and design work. The result: the Out of Sight ™️ bracket, skillfully designed so that even homeowners with shallow 2 x 4 walls can now enjoy the beauty of a fully concealed bracket and the comfort of TV viewing at their preferred height.
Uniquely Designed for Function plus Visual Appeal
The Out of Sight ™️ bracket will allow the back of your large flat-screen TV to mount truly flush against the wall, hiding all wires and brackets inside its recessed enclosure.
The Out of Sight ™️ bracket has applications not only in residential settings, but also in hotel rooms, conference rooms and other public places where a truly ultra-flush installation is safer ― as well as more aesthetically pleasing ― than a protruding wall-mounted, sharp-cornered TV screen.
After viewing, your Out of Sight ™️ solution allows you to retract your TV screen back to its aesthetically pleasing position, as flush against the wall as a painting.
The ability of Out of Sight ™️ to pivot top-to-bottom sets it well apart from existing mounting brackets on the market, which pivot only left-to-right.
Out-of-Sight™ Mounting Solutions will be producing only 100 of its new Out of Sight ™️ brackets in its first run, expected to be available Summer 2023 for $595 plus tax and shipping. fill out the form below to reserve yours!
Interested?

Let us add you to our waiting list, and be the first to know once we ship